The Burgundy Bubble explained
Ask any seasoned collector where the "best" wines of the world are made today, and the response might well be "Burgundy". Certainly, the region is host to some exquisite reds and whites with impressive ageing ability, but the answer may also be linked to their sheer desirability – a phenomenon that has snowballed only recently, over the past decade. This week we explore the rise of Pinot-mania, and where Burgundy may be heading in future.
The rise of Burgundy
Historically, Bordeaux has been the cornerstone of fine wine, due to its long track record of high quality wines, deep-rooted relationship with major export markets, and consequent global popularity. However, the 2000s witnessed a series of unfavourable events for Bordeaux. A disappointing en primeur campaign for the overpriced 2010 vintage, China's entry into top Bordeaux (and subsequent exodus), and a series of unremarkable vintages until Bordeaux 2015 turned collector attention to the treasures of Burgundy.
Along came a new wave of consumer taste playing into "small is beautiful" culture, seeking the nuance of Burgundian "climats", and above all, access to the wines of sought-after domains whose tiny production volumes have been spread evermore thinly between a growing number of Pinot & Chardonnay enthusiasts ever since.
Market dynamics
As prices began to reflect the demand increase, investors arrived on the scene, primarily speculating on the top names – Domaine de la Romanée-Conti, Rousseau, Leroy etc. This dragged prices of "drinking" Burgundy upwards, to the extent that many Burgundy lovers have now been priced out of the region entirely.
While this has narrowed Burgundy's participating audience, the value of Burgundy buying and selling has continued to rise, until now. Lots of Romanée-Conti, Rousseau, and Leroy went noticeably unsold at auction for the first time this summer – a sign that these wines may finally have peaked, or that Burgundy fanatics may have had their fill for now. The Liv-ex Burgundy 150 index has dropped by 9 percent thus far in 2023 (see below), with room for further falls as the relatively abundant 2022 vintage is brought to market early next year.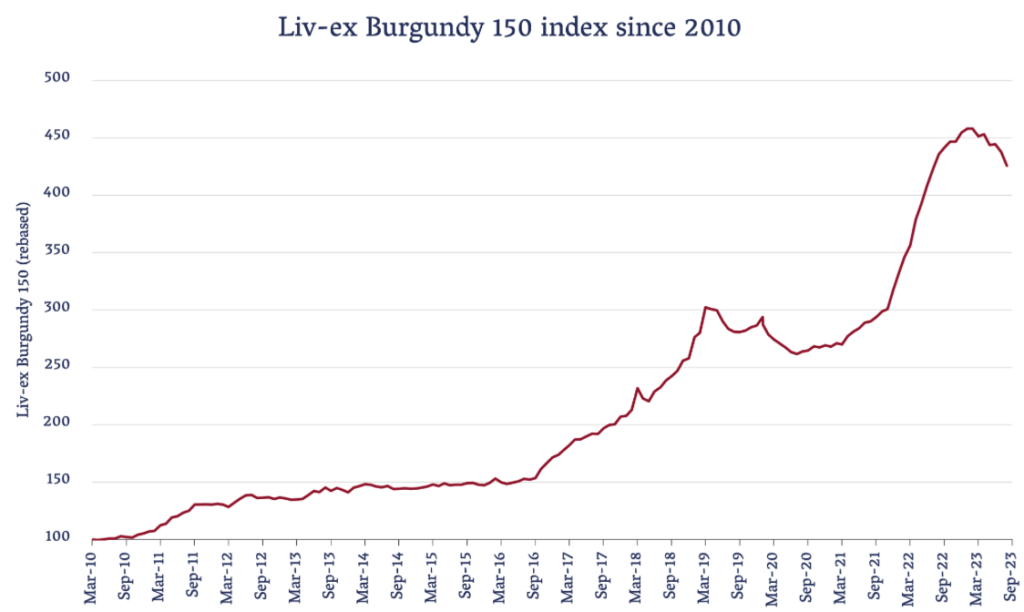 What lies ahead for Burgundy?
After a difficult year for fine wine, it is tough to see how the market would absorb additional price increases, even for the hottest Burgundy tickets. Market confidence in the region could begin to evaporate if prices continue to rise across the board (as per Bordeaux c.2012), particularly within today's economic context.
While the curve is therefore likely to flatten in the mid-term, a continued growth of demand and gradual decline in production (linked to climate change) means that prices can only continue upwards eventually.
But speculators be warned: this does not necessarily make Burgundy the best wine investment vehicle. On the contrary, the narrow market and volatile dynamics make it a high-risk asset, let alone one that requires extreme care at purchase due to the proliferation of fakes. In our opinion, Burgundy will be best enjoyed for drinking in the future, rather than for pure financial returns.