Do 100-point wines make better investments?
Rise of the wine critic
Robert Parker was arguably the first wine critic with global influence on taste. His introduction of the 100-point scale, and award of the first "perfect score" – 100 points to Château Latour 1982 – marked a new era for vinous criticism. Throughout the 1990s and 2000s, Parker ratings commanded increasing influence on the release price of wines. The wine trade leapt on this as a marketing aid, and the desirability of 100-point wines gained ground.
Points for pennies
But what effect does this have long-term on prices of "perfect" wines? Seeking out only 100-point wines has been touted as a sure-fire investment strategy for returns in the past. But how certain is it that 100-point wines will outperform their imperfect peers on price evolution? The simple answer is: not at all.
The more critical acclaim and consumer understanding of wine ratings has evolved, the more scores have been used as leverage to up release prices, meaning that 100-point wines will be more expensive to start with, but won't necessarily reap greater financial reward over time. To complicate matters, wines are rated by the same critics multiple times. At the very least, and in the case of Bordeaux, wines are rated en primeur, as well as 2 years later, once in bottle (see table below).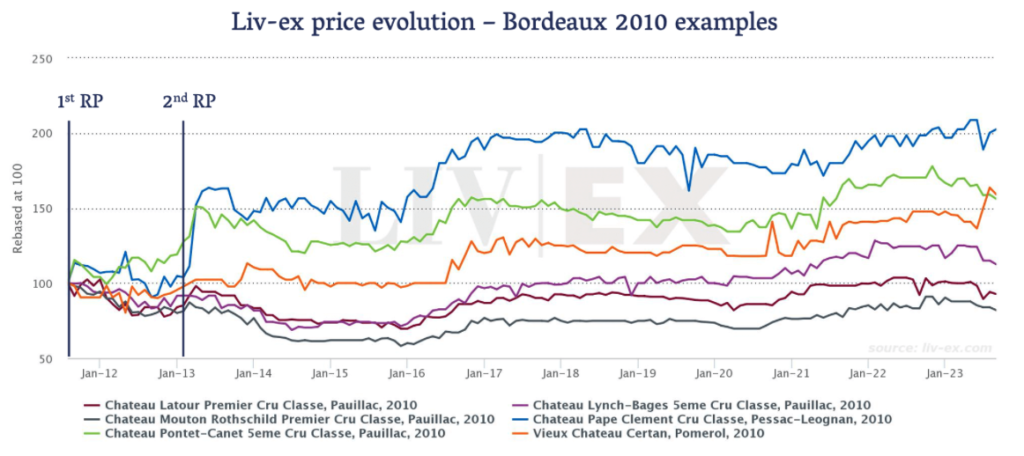 Bordeaux 2010 was a notoriously overpriced vintage. Hailed as the harvest of the century, wines were priced so high they caused a crash two years later (a premonition for Bordeaux 2022?), once Asia had had its fill and stopped buying overnight. Looking at the examples above, market dynamics and the general trajectory of individual brands have had a much greater impact on each wine's long-term price performance than their individual scores.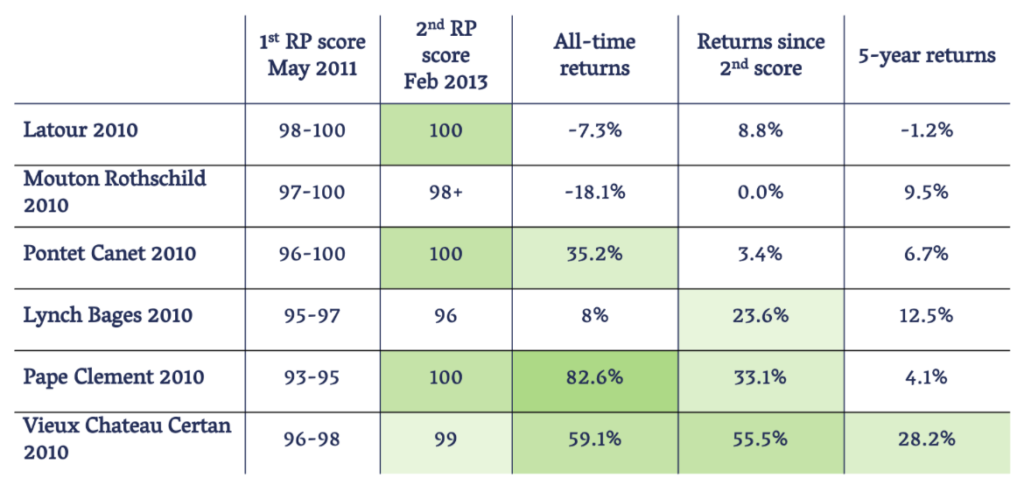 Buyers of Latour 2010 or Mouton 2010 en primeur were burned by the over-inflated release prices, with owners of the latter suffering further once Mouton 2010 was downgraded by Robert Parker in his in-bottle scores of April 2013, to 98+. The three wines up-scored to a firm 100 points in the example set shown sport the worst 5-year returns, and while anyone who purchased Pape Clement 2010 or Pontet Canet 2010 on release can be pleased with their gains to date, those who bought the latter post-upgrade will be sorely disappointed.
Ironically, the 2 wines without a 100-point mention are those with the most consistent performance over time – Lynch Bages 2010 and Vieux Château Certan 2010.
Risky business
Fast-forward a few years, and Robert Parker's retirement sparked a proliferation of wine ratings by many different critics. Without one overriding voice to follow, buying by numbers has become an even riskier wine investment strategy, as ratings by the likes of Antonio Galloni, Neal Martin, Lisa Perotti-Brown, William Kelley, and many others appear to influence release prices, but not necessarily performance.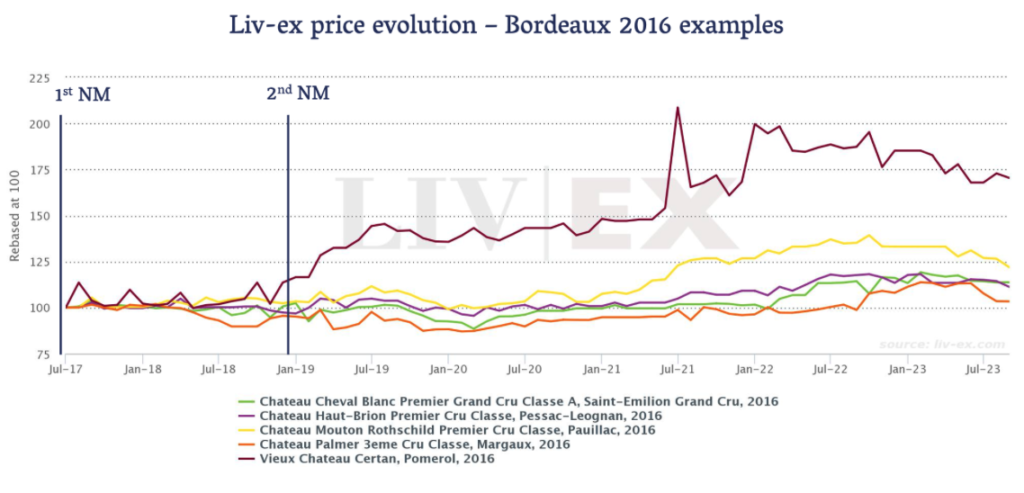 An anecdotal look at Neal Martin's scores of some Bordeaux 2016s suggests some positive impact on value appreciation, but once again it does not stand alone to inform an investor accurately.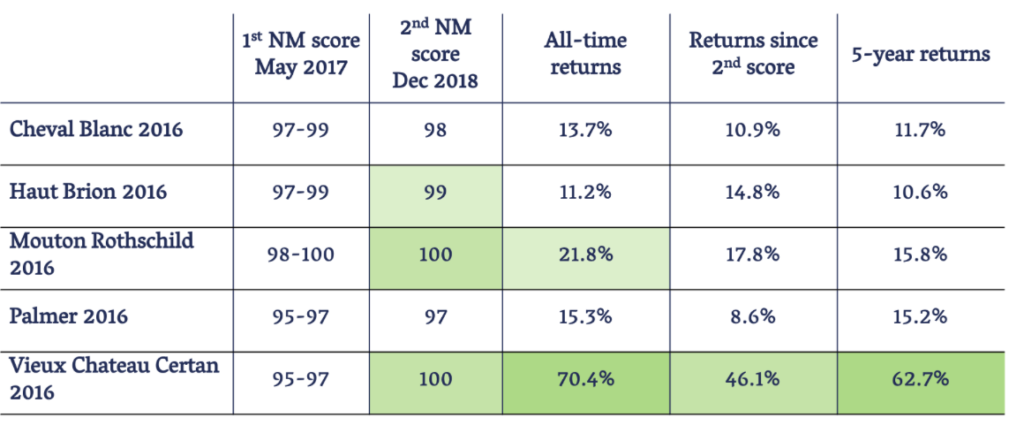 Of the two wines up-scored to 100 in-bottle, Vieux Château Certan 2016 far outperforms its first-growth competitor, and who realistically could have predicted a rating increase from 95-97 to 100? Any buyers of the wine en primeur have made impressive returns based mostly on luck, while en primeur buyers of Mouton 2016 have seen a solid return of 21.8%. The latter is due more to the intrinsic value of Mouton as a Bordeaux first growth, and the 2016 a high-quality vintage, than on the basis of Neal Martin's score alone (Mouton's 2018 and 2019 vintages have increased 17.8% and 20.3% since their respective releases, and neither earn 100 points).
As more and more critical voices weigh in on the matter of taste, complicating the picture of what truly defines a wine worthy of 100 points, investing only with a perfect-point-policy quickly appears both a flawed strategy, and a gamble not worth taking for a real (and traditionally stable) asset class.
Our advice for point-followers would be to look at the bigger picture, and seek understanding of the wider market context before putting their pennies where the points are.